Medicare Coverage of Catheters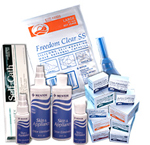 Intermittent catheterization (IC) is a covered benefit of Medicare and most private insurance plans.  A doctor's order or prescription is required and should reflect the actual number of times an individual catheterizes per day.  The prescription must be individualized for each patient.
In 2008, the Centers for Medicare and Medicaid Services opened its coverage policy for up to 200 single-use, disposable catheters per month.  Now any Medicare beneficiary who meets the basic coverage criteria of permanent urinary incontinence or urinary retention can receive one (1) sterile urological catheter and one (1) packet of lubricant for each episode of covered catheterization.
Always keep in mind that regular visits to your healthcare provider are required to maintain the integrity and usefulness of the catheter regimen.