WLSA Partners with QUICK ROUNDS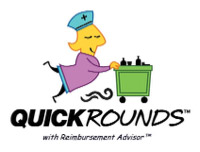 Look what's new at W. L Schneider Associates: QUICK ROUNDS ™!
WLSA is pleased and excited to announce a joint venture with the QUICK ROUNDS organization; a supplier of state-of-the-art web-based assessment and medical ordering software.
With this cutting edge technology WLSA can save facilities tens of thousands of dollars ($$$).
With their Reimbursement Advisor, Portable Record Keeping, Complete Material Management, Standardizing Chart Information, HIPPA Compliant Security and Real Time Report Generation QUICK ROUNDS streamlines a facility's work flow and improves operations across the board.
W. L. Schneider will introduce this new program to their current clients and new customers starting January 1st, 2014.
"Because We Care", W. L. Schneider is always searching for new and innovative ways to improve services to their customers.
Please feel free to contact Joe Sullivan  (President) .. or .. Kevin Gorman (Clinical Liaison and Business Development Specialist) at: 215-624-7201 or toll free at: 866-357-7201for additional information on this exciting new service from W. L. Schneider Associates.