W.L. Schneider Associates offers thousands of medical products from a variety of manufacturers. See our manufacturer's page for a full list of suppliers. We specialize in products related to the following:

From spike sets, to enteral feeding pumps, to specialty enteral nutrition products we can meet all the needs of your residents. WLSA will help to gather the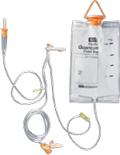 clinical documentation needed to qualify and bill each of your residents.
• Ross
• Novartis
• Kendall
• Zevec

A specialty area for WLSA, we can help you qualify residents in your facility who are currently experiencing problems with pressure related wounds, post surgical wounds, traumatic wounds, wounds associated with diabetic neuropathy or venous related wounds. Our wound care team will review each resident's chart to see if that particular wound meets criteria necessary for third party reimbursement.
• Coloplast
• Smith & Nephew
• 3M
• Molnlycke
• Derma Sciences
• Hartmann Conco
• Dukal
• Dynarex
• J & J
• Kendall

From in-dwelling foley catheters, to coude and silver catheters, as well as intermittent and male external catheters, WLSA can supply your residents with all they need to address incontinence or retention problems. We will also supply catheter insertion trays and a large variety of urinary drain bags from all the leading manufacturers.
• Kendall
• Bard
• Coloplast/Mentor
• Rusch
• Dover
• Amsino
• Reliamed
• Dynarex
• Rochester Medical
• Sherwood Medical
• Welcon

WLSA has available a large selection of ostomy and ostomy related products from leading manufacturers such as Convatec, Hollister and Coloplast, to name a few.
• Convatec
• Coloplast
• Hollister
• Nu-Hope Labs


W.L. Schneider's knowledgeable, experienced and courteous staff can assist you in determining what supplies are needed for your residents, then have them delivered promptly. Delivery is guaranteed within 48 hours, although the majority of orders are filled within 24 hours.

WLSA's billing department is responsible for submitting all claims to the appropriate payer sources, including Medicare, Medicaid and a wide range of commercial insurers.
W.L. Schneider Associates clinical professionals serve as a valuable resource to Long-Term Care and Assisted Living facilities. We offer extensive value added programs such as (but not limited to):
• Instructional Videos
• CEU's
• Protocols, Policies & Procedures
• In-Service Education Programs on a Wide Variety of Topics

W.L. Schneider Associates experienced inventory and delivery coordinators can help organize and stock each resident's supply inventory as well as deliver it to the location of your choice within the facility (central supply, clean utility room, resident's floor, resident's room, etc.)
• Monthly resident chart audit to verify and qualify use of supplies
• Facility determines location for delivery of resident's supplies
• All supplies labeled with resident's name and type of supplies